Views :783
Recommendation:
Votes:0
Discuss:0
Hanoi, 30 May 2019 - Reed Tradex, ASEAN's leading exhibition organizer, together with Japan External Trade Organization (JETRO) in Hanoi have organized Contract Signing Ceremony for Vietnam – Japan Supporting Industries Exhibition (SIE 2019) and Vietnam Manufacturing Expo (VME 2019). The event aims to not only strengthen business partnerships between Japan and Vietnam firms in supporting industries, but also push forward Vietnamese manufacturing industry towards to be able to compete with the global.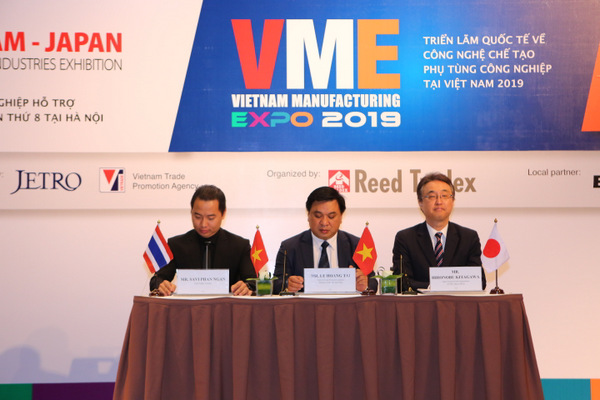 Due to the monetary policy normalization in developed countries and the escalation in the trade war between the United States and China, the process of strengthening business operations and optimizing resources has been accelerated dramatically. Apart from challenges caused by world economic instability, such as flexible exchange rate policies, and strict regulation and monitoring in financial systems, the trend of production relocation from China to Vietnam is also bringing a host of opportunities to businesses that keep abreast to any latest changes.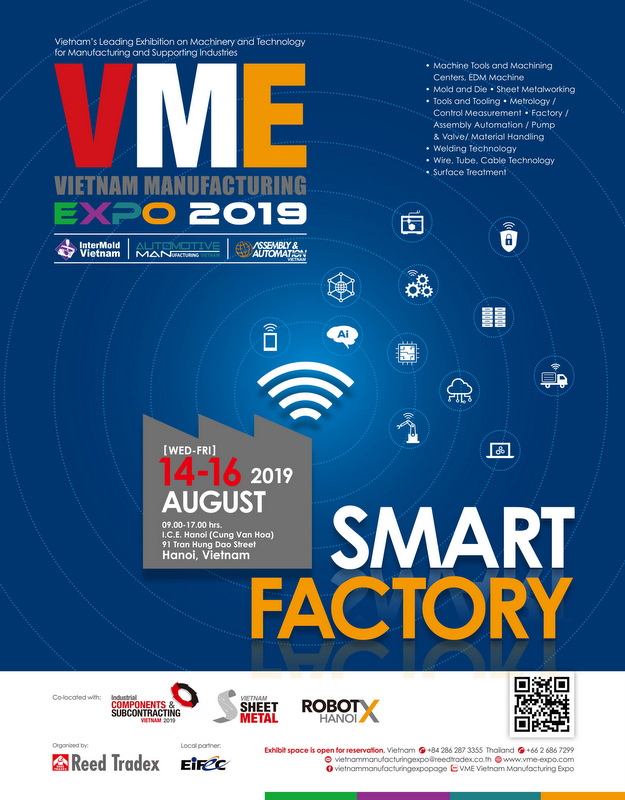 At the press conference on May 30, Mr. Phan Ngan, Project Manager of Reed Tradex Vietnam cited a number of positive figures that: "Vietnam has established trade relationships with more than 170 countries, expanding the trading activities among 230 markets and signing over 90 Bilateral Trade Agreement, nearly 60 Bilateral Investment promotion and protection Agreements (IAs) to support domestic businesses to go global. Taking the role as one of the leading organization in the region for connecting businesses through international conferences and exhibitions, Reed Tradex is honored to cooperate with Japan External Trade Organization (JETRO) in Hanoi and Department of Trade Promotion (VIETRADE) to bring up this event as an networking opportunity for enterprises and support the linkage between manufacturers as well as other companies that related to the supporting industry."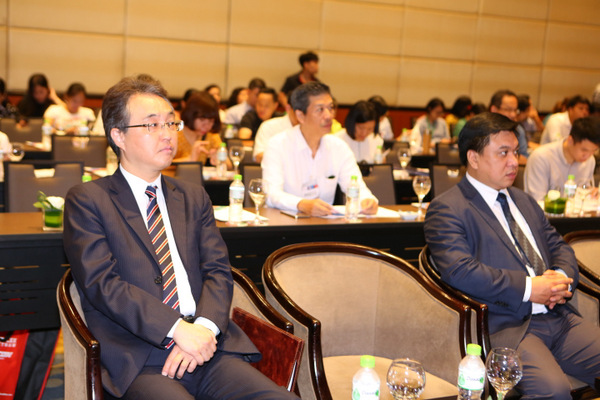 Same point of view, the representative from Japan External Trade Organization (JETRO) in Hanoi, Mr. Hironobu Kitagawa, shared more: "In 2018, the number of Japanese projects in Vietnam peaked at 630 projects. Besides, Japan poured the large amount of foreign direct investment (FDI) into Vietnam with total registered capital of nearly 8 billion USD. Meanwhile, JETRO has been conducting a survey to Japanese companies investing in Vietnam every year. According to the 2018 survey's result, nearly 70% of Japanese companies confirmed to expand business activities in Vietnam within one or two years. In comparison with other ASEAN countries, this number is among the top highest ones. However, one of the challenges now is that the localization for materials, components and spare parts of Vietnam is quite low."
Mr. Hironobu Kitagawa insisted that: "The localization for materials, components and spare parts of Japanese enterprises in Vietnam is 36.3%, while the rates for China and Thailand are 68 percent and 57 percent, respectively. Thus, businesses have to import materials, components and spare parts from neighboring countries, namely Thailand or China. This leads to increasing costs and high risks for Japanese firms having operations in the Vietnam manufacturing industry, and difficulties in maintaining medium and long-term production activities in Vietnam.
In addition, the supporting industries is largely undertaken by small and medium enterprises (SMEs). Nonetheless, restrictions on mechanisms and policies to support SMEs is an issue that we are encountering in Vietnam. On the other hand, if we solve the problem, there will be more Japanese firms eyeing manufacturing and supporting industries in Vietnam. Moreover, it is likely that Vietnam will be recognized by the world as having high manufacturing and processing techniques."
In the era of Industry 4.0 when machinery and equipment are able to improve processes through automation and self-optimization, how can the Vietnam manufacturing and supporting industries adapt with and transform their productions accordingly in order to help Vietnam become the next region's manufacturing center?
Mr. Le Hoang Tai, Deputy Director General, VIETRADE, Ministry of Industry and Trade, said at the press conference that: "In the process of industrialization and modernization, supporting industries plays a vital role to develop a competitive and sustainable industry. With the view of the supporting industries' importance, Government of Vietnam has been assigning the Ministry of Industry and Trade to actively implement the Supporting Industry Development Program from 2016 to 2025. Thereby, the Vietnamese supporting industrial enterprises are fully facilitated to apply modern quality management standards and systems; improve product quality and reliability, participate deeply in global supply chain, and increase localization rate in significant manufacturing industries, such as automobiles, textiles, footwear, electronics, etc."
Statistics demonstrate that only 21 percent of Vietnam's small and medium-sized enterprises (SME) have successfully participated in global value chains, which is manifestly low compared to 46 percent in other ASEAN members. Despite the fact that a wide range of worldwide key manufacturers has set their production in Vietnam and provided manufacturing and supporting industries with numerous opportunities, without cooperation, Vietnamese firms are still struggling to join global supply chains.
To bolster relationships between large foreign firms and local SMEs, USAID (United States Agency for International Development) has decided to implement LinkSME project in 2018-2023 period with total budget at USD 22.1 billion. In detail, the project catalyzes systemic changes in these business relationships, significantly increase the quantity and quality of linkages between Vietnamese enterprises and global value chains. Improved and increased business linkages will help Vietnam's private firms leverage business competitiveness, increase job creation and economic growth, and encourage entrepreneurial innovation.
"SMEs was accounted for 98% of businesses and 40% of GDP in Vietnam in 2016. However, this group is still having to confront a vast of challenges because of being unable to participate in the global supply chain and the lack of competitiveness compared to foreign companies. In 2017, only 21% of Vietnam SMEs could reach the standards of being part of global supply chains, much lower than 30% in Thailand and 46% in Malaysia, respectively. Therefore, enterprises need to seize opportunities to share experiences and learn know-how to approach international markets effectively and appropriately" according to Mr. Phan Ngan, Project Manager, Reed Tradex Vietnam.
Witness Profound Impact of Smart Factory on Manufacturing @ VME
"VME" Vietnam Manufacturing Expo 2019, Vietnam's Leading Exhibition on Machinery and Technology for Manufacturing and Supporting Industries, will connect 200 providers of machinery and technologies from 20 countries with 10,000 industrialists, who are potential buyers and business partners in auto parts, plastics and rubber, industrial components, and many more related sectors in Vietnam. The event will be taking place from 14th to 16th August, 2019 in I.C.E, Hanoi.
The event promises to be an interactive ground to facilitate Vietnamese industrialists to discover the new frontier of manufacturing systems by introducing the implementation of the smart factory, which plays a major role of the Industry 4.0.
For more information, please click to:
www.vme-expo.com
About Reed Tradex
Reed Tradex is ASEAN's leading exhibition organizer. We are a member of Reed Exhibitions, the world's leading events organizer who creates high profile, targeted industry events where buyers and suppliers come together to do business. Our global portfolio includes over 500 events in 30 countries, serving 43 industry sectors. In Thailand and Vietnam, we organize over 20 strong brands of international exhibitions and conferences.
For 34 years, Reed Tradex has been forming circles of business contacts for many industries using unique skills in Event Strategy, Financial Control, Operations Excellence, and Integrated Marketing Communications, that can only be excelled through experiences and connections. This year marks 30th year that Reed Tradex has been facilitating manufacturers in Vietnam.
For more details about Press Services or further information, please contact:
Mr. Phan Quang Vinh (Ryan)
T: +84 286 28 73 355 - Ext: 114
M:+84 916 02 04 85
E: vinh.phan@reedtradex.co.th
2019-06-11