Views :330
Recommendation:
Votes:0
Discuss:0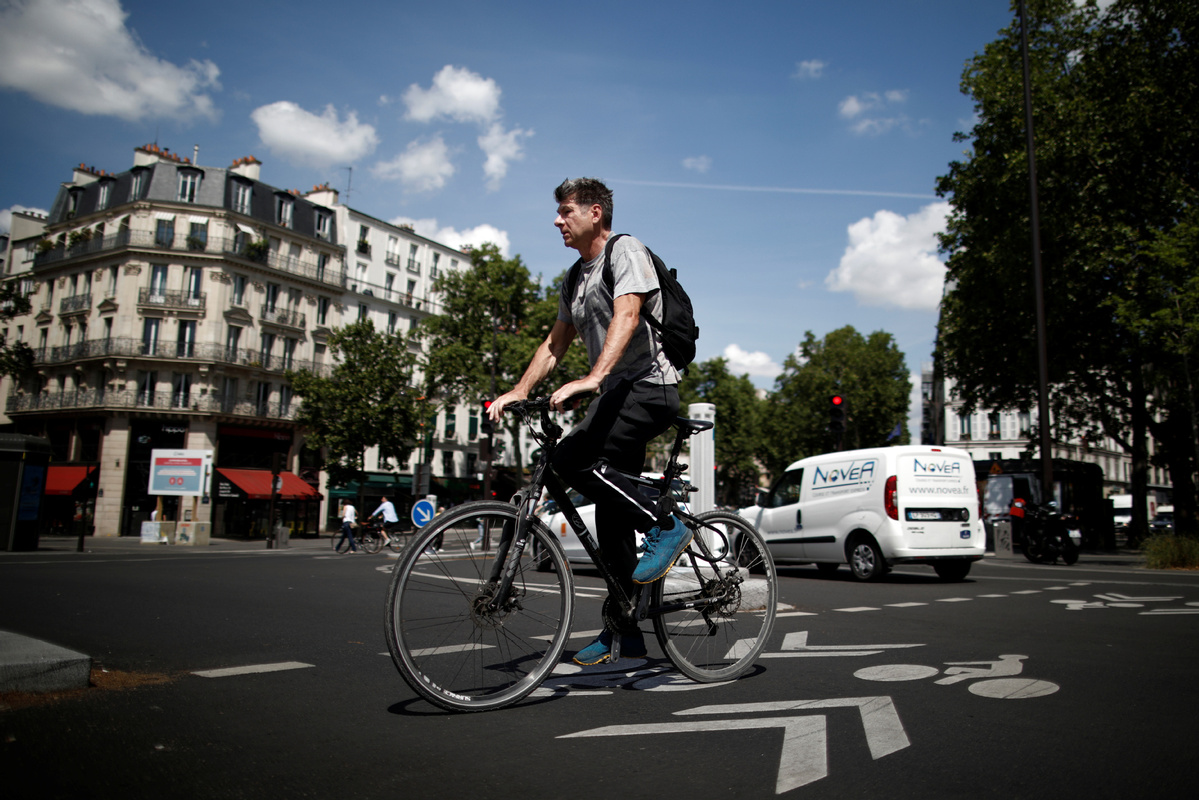 A man rides his bicycle in a street in Paris, following the outbreak of the coronavirus disease (COVID-19) in France, May 25, 2020. [Photo/Agencies]
As people are encouraged to maintain social distance to prevent COVID-19, the two-wheel business has once again witnessed a sales boom around the world.
"If it's available, buy it," said a Texas-based bicycle shop owner in the US introducing his thriving business in a recent CNN Business report. "Bikes are like the new toilet paper," he said.
According to the market research company NPD Group, US adult leisure bike sales jumped 121 percent in March on a yearly basis, and children's bike sales (including those for bicycle motocross bikes) were up 56 percent compared to March 2019.
In addition, data from AliExpress, Alibaba's business-to-customer site selling to overseas markets, show bicycle sales in the Spanish market surged more than 22 times in May compared with the same period last year, and sales in Italy and the UK increased about four times, as reported in a Wednesday report by China News Service.
The surge in global orders has allowed new players to flood into China's bicycle market. The country witnessed over 50,000 related newcomers from January to May this year, up 41.08 percent year-on-year, as per business registration data reported by China News Service.
However, the rise in orders does not means Chinese manufacturers can sit back and relax. Established companies like Shanghai Phoenix Enterprise (Group) and Shanghai Forever Bicycle, a subsidiary of A-share listed Zhonglu Co Ltd, still struggle with sluggish performance, the news outlet said.
Saturated demand and widespread shared bicycles have made the industry hit a bottleneck of growth. Last year, 12.49 million bicycles were sold in China, a year-on-year drop of 23 percent.
China is the world's largest bicycle exporter with its output accounting for about half of the global total, though its export volume and unit price have reached a plateau, Chen Junbin, a research fellow at CITIC Securities, said in the report.
Data from China Bicycle Association show the country's bicycle export volume, value and average price all posted a yearly decline last year, down 11.4 percent, 12.4 percent and 1.2 percent, respectively.
"To make the bicycle industry more competitive and profitable, Chinese bicycle players need to keep up with international standards, and focus on a specific vertical, like sports bicycles, in order to enhance their brand image and build a reputation," said Jiang Han, a researcher at the public policy think tank Pangoal Institution, to China News Service.
Source: China Daily
2020-06-11